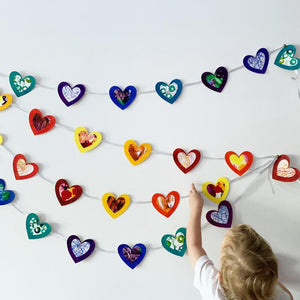 About the Art Hearts Bunting Tutorial
Create mess-free paintings with even the youngest artists, and transform the results into colorful buntings that are sure to bring a smile.
Process
This is a two-part project. First, artists of any age create works in squish paint, finger paint, marker, crayon, etc. When the artworks are dry, an adult (or other person capable of safely using scissors) cuts hearts from the art. Larger hearts are then cut from poster board or manilla folders and painted. The hearts are layered and glued, and then attached to a ribbon. 
Materials
- art work for small hearts. 3 letter/A4 size works are sufficient for 3 buntings.
- 2 manila folders, or poster board.
- paint (acrylics suggested) in desired colors and brush.
- glue or double-stick tape suitable for paper.
- hot glue or craft glue suitable for ribbon.
- 1.5 y/m light-weight stiff ribbon per bunting.
- scissors and a copy of this page, printed at full size, or Cricut and .svg files.