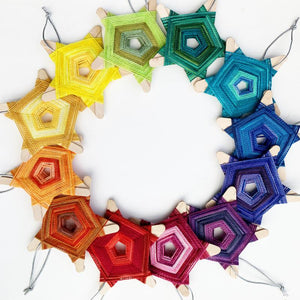 Create colorful stars to bring rays of joy to any space using popsicle sticks and scrap yarn.

Process
This is a two-part project. First, an adult (or other person capable of safely using a glue gun) creates the star-shaped frames from popsicle sticks. Then crafters age 7+ wrap the stars in colorful wool yarn.
Materials
- hot glue gun and glue sticks.

- a copy of this page, printed at full size.
- 5 x 4.5 inch popsicle sticks per star.
- lengths of scrap yarn 3 y/m or longer in a range of colors. Smaller yarn weight (sport weight and below) make more delicate stars.
- small scissors or snips
- optional: yarn needle or small crochet hook to hide ends.